You are in: Weddings & Events |

Christian Wedding


Situated along a private stretch of beach along the Costa Maya shores in Mexico, Almaplena Eco Resort offers a pristine setting for an unforgettable Religious wedding.



" Almaplena Eco Resort offers you a Beautiful Private Beach "

This religious ceremony is for the couples who want to celebrate their love in the presence
of God, it is performed by a Christian Non-Denominational pastor directly on the beach
(instead of Catholic priests that aren't allowed to perform marriages outside the church).
The religious wedding is performed in Spanish, we may provide simultaneous translation into
English.
You may choose your wedding vows from some of the Pastor's favorites and you can personalize
these vows to add a personal touch or you may write your own wedding speech to reflect
completely your values and beliefs.
Please keep in mind that the Religious/Non-Denominational wedding does not change your marital
status here in Mexico or in your Country. You may have your legal wedding performed at home, either
prior to or after your trip to Mexico, or you may do the religious and civil ceremony here in Mexico.
No papers needed; no certificate is handed.

Catholic Wedding
Catholic priests are not allowed by the Catholic Church to perform a ceremony outside the church, for this reason in Mexico the wedding ceremony can only take place inside a Church. We are not offering the catholic wedding option because the Church of Mahahual Village in Costa Maya is too small to performe ceremonies.

We''ll be glad to help you to create a unique and unforgettable event for you and your guests.
Click here to fill out our wedding information request form and start planning your big day.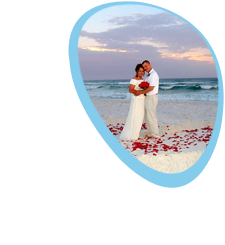 Carretera costera Mahahual-Xcalak, Km 12.5
77940 Mahahual (Costa Maya) - Quintana Roo, México.


Email:

info@almaplenabeachresort.com


All rights reserved.


All Copyright and other Intellectual Property rights in all Designs, Text, Images and other materials on this website are owned by Tres Jaguares S.a. de C.V..
No part of this site may be reproduced without the written permission of the copyright owner. Almaplena is a registered trademarks of Tres Jaguares S.a. de C.V..