You are in: Weddings & Events |

Civil Wedding


Almaplena Eco Resort offers you a beautiful private beach situated in Costa Maya, Mexico; the perfect site for a special Civil Ceremony.

The Civil Wedding is the only marriage in Mexico that changes your marital status from single to married and it is the only one recognized as legal throughout the world.
A legal ceremony is performed on the beach by a civil judge from the Registro Civil in Spanish language, we may provide you an English-language translator who simultaneously interprets the ceremony.


"We offers a pristine setting for an unforgettable Civil Wedding"

Required documentation for Marriage between Foreign Citizens:

Passport: Original valid passports and photocopies for both of you;
Tourist Card: Mexican entry Visa for both (provided by Mexican immigration upon your arrival
at the airport) or Legal Migratory Document (FM3, FM2);
Blood test (HIV, VDRL venereal disease, factor RH, blood type) to be done from a
mexican clinic before the wedding date. Valid for 14 days maximum;
Medical certificate issued from a Mexican doctor before the wedding date. Valid for
14 days maximum.
Birth certificates: original documents and photocopy. It must be translated to Spanish
by a certified translator and *apostilled*
Four witnesses over 18 years old (2 for the bride and 2 for the groom), who are required to
provide to the Registro Civil office personal data, original valid passports, visa and photocopies.
The witnesses cannot be your own parents.
For Divorced or Widowed: If you are divorced you must present the final divorce decrees, under Mexican law you need to wait at least one year before you can remarry in Mexico.


If you are widowed, original or certified copy of spouse's death certificate is requested.
If the divorce or death took place outside of Mexico, it must translated into Spanish and apostilled*

You need to provide all the required documentation at least 4 full business days prior to the Wedding date (Weekends and public Mexican holidays don't count).

* Apostilled documents need to be sent to your wedding coordinator, preferably 1 month before your wedding day. You must also bring the originals with you to Mexico.
Apostille is a document authentication and it is required in order for the Registro Civil office to consider the documents valid and legal. The apostille must be acquired from the Secretary of the State's Office of the Country where the document was issued.

Required documentation for Marriage between a Mexican Citizen and a Foreigner:


All of the above documentation;
Migration Permission Document: If you are a foreigner and want to marry a Mexican citizen, you need t obtain an authorization from the National Migration office (Instituto Nacional de Migración). The document is known as "Permiso para contraer matrimonio con un nacional" and must be required at the Migration office in Chetumal, it may take between 1 to 2 weeks (this depends on the Migration office only).


The Marriage license is issued in Spanish language and it is only valid in Mexico, to be valid in your country it has to be apostilled (authenticated) by the Mexican Government and it takes around 40 working days after your Wedding day. After you obtain your Apostilled Marriage license you have to present it to your country registry office.

We''ll be glad to help you to create a unique and unforgettable event for you and your guests.
Click here to fill out our wedding information request form and start planning your big day.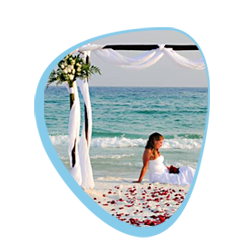 Carretera costera Mahahual-Xcalak, Km 12.5
77940 Mahahual (Costa Maya) - Quintana Roo, México.


Email:

info@almaplenabeachresort.com


All rights reserved.


All Copyright and other Intellectual Property rights in all Designs, Text, Images and other materials on this website are owned by Tres Jaguares S.a. de C.V..
No part of this site may be reproduced without the written permission of the copyright owner. Almaplena is a registered trademarks of Tres Jaguares S.a. de C.V..