You are in: Weddings & Events |

Renewal of Vows


Almaplena Eco Resort is set undoubtedly on one of the most beautiful beaches of Costa Maya, in Mexico.

A private pristine beach wedding destination, surrounded by white sand and
turquoise waters, creates a magical atmosphere for your Wedding Vow Renewal.

This ceremony is often associated with a wedding anniversary, but it does not
have to be, it's just the perfect way to express to each other that you are still so in love
that you would marry each other all over again or that your love has deepened.
A romantic wedding on the beach is a magnificent event either in celebration of your
wedding anniversary, or just for an exciting day to celebrate your love.
Almaplena Eco Resort offers you a fascinating location on a powder soft sandy beach
at the edge of the Mexican Caribbean sea.

This wedding does not require documentation and it has no legal effects, it is only a
symbolic and sentimental ceremony, a special way to reaffirm your love, friendship and
commitment to each other.
A renewal of marriage vows is a fantastic opportunity to relive all the memories of the time you have had together and a expression of your continued commitment to each other for the future.
A renewal of vows ceremony is a perfect solution if you want to arrange a wonderful surprise wedding for your spouse with a new promise of love and see the sparkle reignited again.

The ceremony is not performed by a religious or public official, but simply by a person who conducts the ceremony according to your requests. It can be celebrated by a Mexican officiant, a family member or friend. The ceremony can be personalized according to your requirements, you can include special readings, selected music, the rededication of rings or giving of new rings, you can involve your children, family members and friends...

We''ll be glad to help you to create a unique and unforgettable event for you and your guests.
Click here to fill out our wedding information request form and start planning your big day.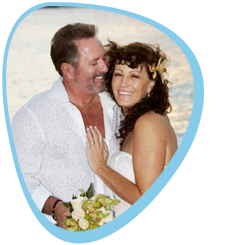 Carretera costera Mahahual-Xcalak, Km 12.5
77940 Mahahual (Costa Maya) - Quintana Roo, México.


Email:

info@almaplenabeachresort.com


All rights reserved.


All Copyright and other Intellectual Property rights in all Designs, Text, Images and other materials on this website are owned by Tres Jaguares S.a. de C.V..
No part of this site may be reproduced without the written permission of the copyright owner. Almaplena is a registered trademarks of Tres Jaguares S.a. de C.V..