You are in: Resort |

Resort Overview


Set in the coastal region known as Costa Maya between the Sian Ka'an Biosphere Reserve and Xcalak National Reef Park, along a stretch of coast where the turquoise waters of the Mexican Caribbean Sea meets the beaches of white sand, Almaplena Eco Resort & Beach Club is pure escapism with a touch of charme.

This is one of the Mexico's hidden gems, a true oasis of calm where the day can be begin with a walk and finish with a romantic dinner on the terrace of our beachfront restaurant.

Just a few steps beyond the beach there is a a spectacular coral reef... the lapis-blue
Caribbean stretches toward the horizon. Imagine spending days of rest in one of the
beach front rooms, to walk along the beach, to relax on a hammock, to explore
Mexico...

Almaplena, with its eight romantic suites in a landscape of over 107.639 ft2
(10.000 square meters) it is merged with the elements of nature, the sun, the sky,
the moon and the stars, the sea with its sounds and its breeze.

The architecture, lovingly studied, in Rustic-Chic style inspired by the Mexican
classic, it uses materials carefully sought after in the whole of Mexico: the textile from
Chiapas, the copper and the mats from Michoacan, the wood from Yucatan, the iron from
Jalisco.

The Beach Club offers straw umbrellas, beach showers, lounge chairs, beach cushions and lounge areas, dressing rooms and restrooms directly on the beach.
Right in front of the resort there is an excellent site for snorkeling and diving along the Costa Maya Mesoamerican reef, the 2nd largest barrier reef in the world.

Almaplena Eco Resort & Beach Club, is contributing to the maintenance and the guardianship of the biodiversity.
The design of buildings and rooms uses the shade of the sun and the breeze of the sea to refresh the ambience; rain water is collected for daily use, for cooking and drinking we provide bottled water, our wind turbine produces clean electrical energy.
The sojourn in our Resort means to actively participate in the maintenance of the environment and to guarantee your children the same experiences.

" Almaplena Beach Resort... authentic, natural, Mexican charm "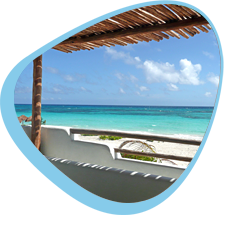 Carretera costera Mahahual-Xcalak, Km 12.5
77940 Mahahual (Costa Maya) - Quintana Roo, México.


Email:

info@almaplenabeachresort.com


All rights reserved.


All Copyright and other Intellectual Property rights in all Designs, Text, Images and other materials on this website are owned by Tres Jaguares S.a. de C.V..
No part of this site may be reproduced without the written permission of the copyright owner. Almaplena is a registered trademarks of Tres Jaguares S.a. de C.V..