You are in: Resort |

Respect for Nature


Almaplena is an Eco Friendly Beach Resort located in Costa Maya (Quintana Roo State, Mexico)
bordered by the warm and turquoise caribbean sea on one side and a peaceful tropical jungle
on the other. A subtle balance's habitat surrounds the entire Eco Resort.
The Resort, settled in a private and secluded white sand beach, features eight beachfront Suites
overlooking the Mexican Caribbean Sea, a Bar, a relaxing Restaurant with a wide terrace and
Beach Club services. Its primary goal is to offer maximum comfort while preserving the
surrounding environment and making nature part of the experience.
Almaplena Eco Resort & Beach Club is strongly committed to a policy of
environmental responsibility that is realized trough four main points:

Water:
Most of the water used at the resort comes from the rain. Our buildings' roofs convey the water to the underground tanks with a total capacity of more than 140,000 liters (36,900 gallons). This water is used in the bathrooms, showers and kitchen. This water is 100% recycled through biodigesters that purify the water and at the end of the treatment it is recirculated and reused in toilets or to water the garden. Electricity:
Most usable energy is generated at the resort from our wind turbine generator that stands over 21 meters high.
This little gem is able to generate more than 20 KwH of 100% clean energy. The energy produced is stored in batteries and converted to electricity to be use by our resort and our guests.
Wind energy is clean and environmentally friendly renewable energy.
To guarantee our guests a full power service 24 hours a day and 365 days a year, we also use a backup generator with a low environmental impact, this generator works only to recharge batteries if there is no wind. Fauna:
Almaplena Eco Resort & Beach Club is located on a stretch of coast declared by the ecological
authorities as a "Turtle Marine Sanctuary". Our commitment starts with informing our guest how
to behave during the spawning of the turtle. It continues with the preservation of the turtles that reach the coastline.
A brochure showing the rules to be adheared to is available in the rooms and in the restaurant. The
resort staff is available to provide additional information.
The commitment to marine turtles conservation is total and unquestionable for Almaplena; the
management reserves the right to expel from the property without prior notice, guests that disturb
or otherwise fail to meet standards of conduct regarding sea turtles protection.

The forest that surrounds Almaplena Eco Resort & Beach Club provides a valuable habitat to many animal species, some of them are timid and difficult to see, others show up almost daily, like osprey, pelicans, heron, parrots and many other birds.
You may have the good fortune to see Jaguars, Tapirs, Coatis, Deer and Dolphins. This is a unique experience that enriches our lives and it leaves in our heart a lasting memory.
Right in front of Almaplena Eco Resort & Beach Club there is an excellent site for snorkeling and diving along the Costa Maya Mesoamerican reef. This is a fantastic experience, just 54 yard (50m) from the shore you will see corals, an abundance of colourful fish and if you are lucky some turtles.
In the deep sea there are plenty of tropical species such as Sailfish, Marlin, Barracuda, Grouper Snapper, Kingfish, Manatee (Trichechus manatus) and more.

Chinchorro Bank, the most largest Caribbean atolls located 26 miles (37 Km) out the Costa Maya, offers a spectacular diving with large blue sponges, many varieties of fish, turtles, sea walls full of life and a special atmosphere that includes several sunken ships.
Let us be content to have received this opportunity, and make sure to respect nature, so that other people can live their own experiences.
Flora:
The flora, with its green mantle, covers the jungle that shelters hundreds of species of animals.
The dense tropical vegetation of Costa Maya area features Coconut Palms, Chit Palms, Sea Grapes, Mangroves, Bougainvilleas, and many many more.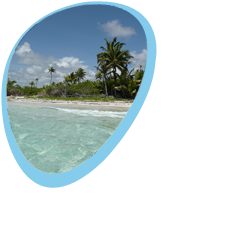 Carretera costera Mahahual-Xcalak, Km 12.5
77940 Mahahual (Costa Maya) - Quintana Roo, México.


Email:

info@almaplenabeachresort.com


All rights reserved.


All Copyright and other Intellectual Property rights in all Designs, Text, Images and other materials on this website are owned by Tres Jaguares S.a. de C.V..
No part of this site may be reproduced without the written permission of the copyright owner. Almaplena is a registered trademarks of Tres Jaguares S.a. de C.V..